Occasionally Cait over at Paper Fury posts mini-reviews on her blog, and I've always loved the idea. Every now and then, I don't feel like writing a full review on a book, so I'll post some quick thoughts on Goodreads.
Lately, I've had a string of "meh" books that I didn't love but didn't hate, but I just couldn't muster up the effort of writing full reviews on them. Instead, I'm going to take a page from Cait's book and share some mini reviews on 8 different books I've read recently!
Dan knows he's not a great husband – he travels often for work and often cheats on his wife, however when he finds his wife's body in his hotel room, it's clear that someone is setting him up by making it look like he killed her. Who killed his wife, and why are they framing him?
Unfortunately, this was a book where the plot sounded great, but the rest of the story was just a mess. The main character in this one was such a moron. I can't imagine any sane person making the choices this man made, so it made everything feel really unrealistic for me. Dan's initial instinct when finding his wife's body was to flee the country with the   hotel receptionist that he was sleeping with. The lack of logic behind the choices Dan made ruined this one for me, and I rated it 2 stars.
What You Wish For by Mark Edwards
Richard's girlfriend Marie has gone missing, and he'll do anything to find her. Richard thinks Marie's odd beliefs have something to do with her disappearance, and when people close to Marie start dying, he realizes he might be in danger himself. As he starts to uncover the truth, he begins to question how much he actually knew about his girlfriend.
Unfortunately, this was not a winner for me. I've loved every book I've read from Mark Edwards until now, so I feel like this one was just a fluke. I had no idea going into it that it was about aliens/UFOs, and that's just not my thing. I would have skipped this one had I known that before hand. If you're new to Mark Edwards, I'd recommend starting with any of his other books – The Magpies would be my recommendation. I rated this one 2 stars.
The Bird Tribunal by Agnes Ravatn
After a scandal that rocks her personal life, Allis abandons everything she knows and moved to a remote fjord to take a job helping manage the house for a mysterious man named Sigurd and his wife. Siguard's wife is never around, and he and Allis start to develop a dark relationship. As secrets are revealed, it's clear that they both have past sins that need to be atoned.
After seeing so many rave reviews for The Bird Tribunal, I went back and forth on whether or not I wanted to read it. On one hand, it didn't sound quite like the type of thrillers I like, but on the other hand, many of my fellow bloggers absolutely loved it. I decided to give it a go, but in hindsight, I should have stuck with my gut.
Clearly my rating is in the vast minority, so just note that I wasn't the right reader for this book and that these are my personal preferences. I really struggled with the book. While it was beautifully written, I felt the entire time like nothing was happening. There was definitely an eerie vibe going on that led me to think something major would happen at the end, and I'd be blown away like so many others were. Unfortunately, the end was super predictable for me, and I didn't feel like there were any big moments that redeemed the book for me. That coupled with the fact that I hated both of the main characters and couldn't get invested in them left me rating this book two stars.
If you're a fan of unlikeable characters (think Gillian Flynn's characters) and slow moving plots with beautiful writing, this will be a winner for you. Personally, I need something more fast paced to hold my attention and rated this one 2 stars.
Goodnight Sweetheart by Teresa Medeiros 
Author Abigail ends up with a twitter account after her publicist decides she needs something to keep her fans engaged with her while she writes her second book. Stuck in a writers block, she uses twitter as a distraction, and starts flirting with a man named Mark, who is busy traveling the world. Or is he?
The concept of the book was really cute, and I love books told through twitter/IM formats, so I was excited about this one. The biggest problem I had with it was the insta-love! It was IMMEDIATE that these two characters started flirting without knowing anything about each other, and then just jumped right on into this twitter relationship, which felt weird to me. Some of the flirting was really heavy handed and blunt, and if some stranger were tweeting me the same things from the get go, I wouldn't have replied to them, because it's creepy.
Overall, this is a very straightfoward story about our two main characters developing feelings for each other, with one twist at the end and a very open ending. If you're looking for something light without much depth, this may be a good choice for you. I read it in about 2 hours. I feel like I'm in the minority here, because most of the reviews are 4 and 5 stars, however this one left something to be desired for me, and I rated it 3 stars.
Cover Your Eyes by Mary Burton
As bodies start to pile up, public defender Rachel is convinced they are connected to an old case. She was never sure that the right man was put behind bars, so she's determined to find the connection with these new bodies and have her client re-tried, despite what the police think. As Rachel starts getting some answers, she finds out that she's also putting herself in danger…
So this is classified as romantic suspense, which is definitely isn't. I would classify it with regular suspense/thrillers, especially considering there was very very minimal romance until the very end of the book.
Overall, I liked the plot, but found it a little slow moving. It felt like it was slow for the entire middle of the book and then jam packed with action and answers in the last few pages, where it felt like the reveals could have been a little more spaced out so it didn't feel so rushed at the end of the book.
The rest of the books in the series sound interesting, so I'll probably read the others and see how the characters develop and progress. I rated this one 3 stars.
My Sister's Grave by Robert Dugoni
Twenty years ago, Tracy's sister Sarah disappeared. Despite the fact that no body was every found, a trial took place and a man was sentenced to prison for the crime. Tracy has never been convinced that the man who went to prison was actually the man who killed her sister. When Sarah's remains are finally found twenty years later, Tracy is determined to figure out what really happened to her sister.
To be honest, I think I just wasn't the right reader for this book. I'm not a huge fan of courtroom dramas, and a lot of this book took place during trials and the legal piece of it was just not for me. Generally, I'm fine with a little bit of that, but since so much of the book took place there, I struggled.
I did like the end of the book and it took me a little while to put all of the pieces together. Overall, I won't continue this series, but definitely recommend it for fans of courtroom dramas. I rated this one 2.5 stars.
The Secret History by Donna Tartt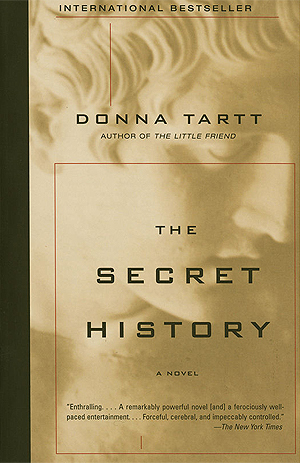 Richard goes away to college and joins a highly selective group of students who study classics, and focus mostly on Greek. When one night changes the dynamics of the group forever, they start to descend into thoughts of murder.
I struggled on how to rate this book, and waffled quite a bit between 3 and 4 stars. I really wanted to love it – it has so many five star reviews and I've heard such great things about it, and I did love parts of it. That said, there was quite a bit that felt super slow and unnecessary to me. The book was ~500 pages and could have easily been ~100 pages shorter with no loss in plot. I also struggled to relate to the characters a lot of the time, particularly in regards to their decisions and emotions (or lack there of) afterword, and pretty much hated every single one of them. Since some parts of the book felt like 2 stars to me and others felt like 4 stars, I landed at a 3 star rating overall.
Because She Loves Me by Mark Edwards
The day Andrew meets Charlie, he feels like he's won the lottery. Charlie is beautiful and fun, and is everything he's been looking for in a woman. After a whirlwind romance, Andrew is in love. He spends most of his time with Charlie, and has never been happier. What starts off as a fairytale romance quickly spirals downward, as Charlie's jealousy grows, and Andrew starts to feel like someone is following him. On top of that, things start going missing from his apartment, women start disappearing from his Facebook friends list, and a string of bad luck seems to be hitting his friends and family. As Andrew starts to question whether or not he's losing his mind, he starts to wonder if Charlie is less perfect than he originally thought…
I really love Mark Edwards' work, and so far I've loved every book of his that I've read, and Because She Loves Me was no exception. The book was a quick thriller that made me tense at points as I was waiting to see what would happen to Andrew and his family next. I won't give anything away, but I will say that I loved the ending of the book! I'd recommend this one to fans of the domestic thriller/suspense genre who are looking for a quick, fast paced read! I rated this one 4 stars.
**So there you have it! 8 mini reviews. Have you read any of these books? What did you think? Fellow reviewers, do you ever read books you just don't feel like reviewing?**