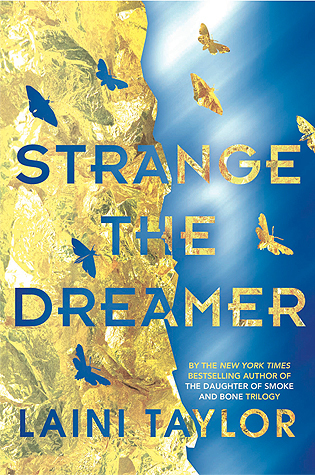 Lazlo Strange is a young librarian who is obsessed with the lost city of Weep. The day the heroic Godslayer shows up from the city of Weep is the day Lazlo always dreamed about. The Godslayer is looking for people to join him to help him solve a problem Weep is facing. With limited details and no useful skills, Lazlo is desperate to join the small group of people headed to Weep, and convinces the Godslayer to bring him along.
What ensues is a journey that Lazlo won't soon forget. Why did Weep disappear two hundred years ago, what is the problem that needs to be solved, and who is the girl named Sarai that keeps showing up in his dreams…and why is she blue?
I'd heard so many rave reviews about Strange the Dreamer, that I decided to pick it up (the gorgeous cover didn't hurt) and I'm so glad I did! Lazlo is the most innocent little button, and I wanted to shield him from the nastiness of the world for the first half of the book. Ha! I love that he works in a library and has a love of books and storytelling, and I immediately connected with him as a character.
Strange the Dreamer was unlike any other YA or fantasy book I've read. The story of Weep was so unique to me, and I loved that it was told in both Lazlo's perspective as well as Sarai's perspective. Often, I'm not a huge fan of books that have multiple POV's because they can get confusing, but this one worked perfectly and added a lot to the background of the story.
This book had it all – beautiful writing, wonderful storytelling, developed characters, action, and romance, and it far surpassed my expectations. I'm eagerly anticipating the next book in the series so I can see what happens next! I loved the way the first book ended. I felt like it made enough progress in the story to where I didn't feel like I wasted my time reading a 500 page book where nothing happened, but ended at a point where a second book makes sense.
It's been a very long time since a book made me cry, but this one had tears streaming down my face! The writing was flowy and lyrical, and I really enjoyed reading the book. This was a 5 star read for me, and I recommend that all fans of YA Fantasy pick this one up!