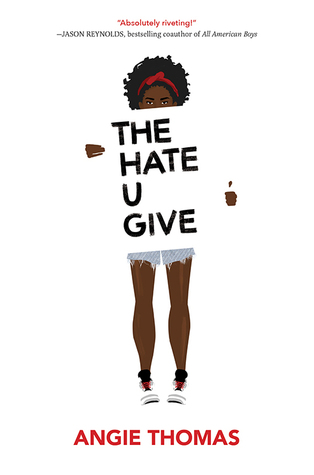 Sixteen year old Starr lives two lives. One is her home life. First is her home life, where she lives in a poor neighborhood and is regularly witness to gang activity and violence, but second is her life at school, where she's one of the only black students. Here, she watches that she says and does to ensure she's not labeled as the "angry black girl" or any of the other stereotypes she could accidentally end up being labeled if she doesn't keep her cool. Starr's two world collide in a horrific turn of events, when she witnesses her childhood friend Khalil shot by a white cop during a routine traffic stop.
As the only witness, Starr is torn between protecting herself and her anonymity as Khalil's death begins to attract media attention, and speaking out about an unjust killing of a black teen.
I heard SO much about this book prior to it coming out, and I have to say that the hype did not disappoint. The Hate U Give is a contemporary like no other. It's timely, relevant, eye opening, heartbreaking, and most of all: powerful. This is by far the most relevant novel I've read in a long time, especially given the fact that this book was inspired by true shootings of unarmed black men by white cops during routine stops. In addition to the shooting, the book also discussed how the media portrays these type of events, the resulting aftermath for the family and community, and how a young teen can get into trouble by trying to help their family.
Starr absolutely made this book for me. She really struggled with finding herself, and wasn't sure when she should speak out and when she should stay quiet. We saw her inner turmoil a lot throughout the book, and my heart broke for her every time she felt like she couldn't be herself around people who were supposed to be her friends. Starr also has a very close relationship with her family, which I adored. Her dad is a respected member of the community, who has left his gang life behind to try and provide a better future for his children. Her mother works at a hospital and tries her best to set a good example of a strong woman, her older brother wants nothing more than to protect his family, and her younger brother is a pain in her butt, like all younger brothers are 😉 I am very close to my own family, and I really liked how involved in the story her family was. Often in contemporary YA novels, the parents aren't around at all, and I'm left wondering if they have any idea what their children are up to.
Starr has a white boyfriend, who she hasn't told her dad about, because she's worried he'll judge her for not dating someone within her race. I enjoyed this part of the storyline as well, especially watching her boyfriend Chris trying to find his place in Starr's life. I didn't love him at first, however he stepped up in a big way by the end of the book and he grew on me.
Lastly, I loved that although Starr was the main character in the book, and the only POV in the book, all of the supporting characters felt like they had their own storylines. They felt like the star of their own stories, and not just as filler characters, which is a tricky line to pull off. Overall, I felt that all of the characters were well developed, and that I saw growth in each of them throughout the book.
Although there is a lot more that I can say about the book, I'll leave it at that. What I will say is that you should pick this one up and move it to the top of your TBR. I think this is a book everyone should read, especially given the state of the political environment (particularly in the US). Like I said earlier, it's timely and relevant, and made me both cry and laugh. You won't want to miss this one.