Hello all! Today I bring you two mini reviews, one for Fangirl by Rainbow Rowell, and one for One of Us is Lying by Karen M. McManus! As you may know, mini-reviews are something new for me, but every now and then I read a book that I don't quite have enough thoughts for in order to merit a full review, but I want to share my feelings either way!
That said, on to the reviews!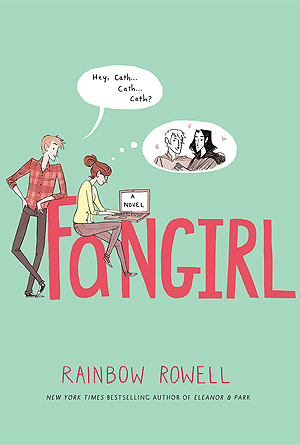 Fangirl is a YA contemporary coming of age novel that I'd heard so much about. The main character, Cath, is a very introverted college freshman, who prefers to live in the fantasy world of Simon Snow, where she's a very popular fanfiction writer. As Cath moves away from her home town and heads to college with her twin sister Wren, her world starts to evolve. She's used to spending all of her time with Wren – they've always been a package deal, but when Wren wants to live separately and starts making her own friends, Cath feels lost.
Fangirl is the second novel I've read by Rainbow Rowell (my first was Attachments) and I have to say, I enjoyed this one much more than Attachments. I really liked Cath, and felt for her when she was struggling with being social and overcoming her anxiety. I loved that the book focused on her ever-changing relationships between her sister, father, friends, and love interest Levi. Overall, this was a 5 star read for me. That said, I felt like the book ended a little abruptly. I wish there had been an epilogue to wrap up everyone's stories!
One of Us is Lying by Karen M McManus
One of Us is Lying was a book I'd been anticipating since I first heard about it last year. It tells the story of five high school students who are sent to detention together, however only four come out alive. The book alternates point of views between the four remaining students as the police try and figure out the mystery of the fifth students death.
I really enjoyed this book, and it felt like reading a book based off of the game Clue a little bit, and I loved that! At first, it was a little tricky to remember which character was which, especially since they all had people they were dating or friends with, who were also referenced, so I had a little trouble keeping up with who was who and who was dating who, but once I got a little farther into the book, that was no longer an issue. This ended up being a 4.5 star read for me. Each character had their own unique voice and personality, which was really enjoyable to read.