It's Monday! What Are You Reading is a weekly feature hosted by Kathryn at Bookdate, where we can share what you have been reading, what you are currently reading, and what you'll be reading soon.
I'll start with what I finished last week.
Last week I finished 5 books, and unlike the week before, not a single one of them was a 5 star read! I was really hopeful with some of them, but alas, it was not meant to be this week.
Paranormal Intruder and Most Likely to Die were both 4 star reads for me. Paranormal Intruder was a true story about a family who was being haunted after moving into a new house. While I don't believe in the supernatural, I really love horror movies and books, especially around hauntings and possessions! I'm weird, I know. Most Likely to Die was a thriller about a group of friends who are planning a high school reunion. In high school, one of their friends died, and now their group is being killed off one by one as well.
Fool Moon is the second in the Dresden Files series, about a magician in Chicago who helps the police solve crimes that are more supernatural in nature. I loved the first book, but wasn't blown away by this one. I'd heard this one wasn't great, and it was a 3 star read for me, largely driven by the fact that this one was about werewolves, which isn't something I generally enjoy reading about.
Penpal and Each Little Lie were both 2 star reads for me. Penpal had an intriguing premise about a boy that ends up with a stalker after completing a kindergarten project involving penpals, but I found the execution lacking. Each Little Lie was a thriller about a woman who gets accused of a crime she didn't commit, but I found it unbelievable and dry.
Next up are my current reads. Right now, I'm reading three books which are:
House of Leaves by Mark Z. Danielweski
A blind old man, a young apprentice working in a tattoo shop, and a mad woman haunting an Ohio institute narrate this story of a family that encounters an endlessly shifting series of hallways in their new home, eventually coming face to face with the awful darkness lying at its heart.
The Ice Twins by S.K. Tremayne 
 A year after one of their identical twin daughters, Lydia, dies in an accident, Angus and Sarah Moorcraft move to the tiny Scottish island Angus inherited from his grandmother, hoping to put together the pieces of their shattered lives.
But when their surviving daughter, Kirstie, claims they have mistaken her identity—that she, in fact, is Lydia—their world comes crashing down once again.
As winter encroaches, Angus is forced to travel away from the island for work, Sarah is feeling isolated, and Kirstie (or is it Lydia?) is growing more disturbed. When a violent storm leaves Sarah and her daughter stranded, Sarah finds herself tortured by the past—what really happened on that fateful day one of her daughters died?
Eliza and Her Monsters by Francesca Zappia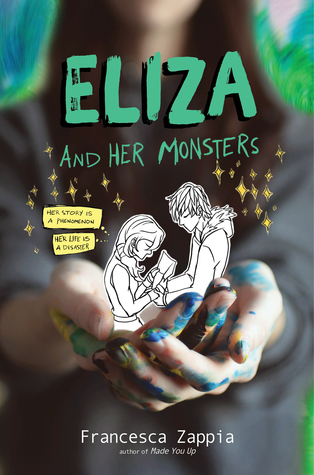 Her story is a phenomenon. Her life is a disaster.
In the real world, Eliza Mirk is shy, weird, and friendless. Online, she's LadyConstellation, the anonymous creator of the wildly popular webcomic Monstrous Sea. Eliza can't imagine enjoying the real world as much as she loves the online one, and she has no desire to try.
Then Wallace Warland, Monstrous Sea's biggest fanfiction writer, transfers to her school. Wallace thinks Eliza is just another fan, and as he draws her out of her shell, she begins to wonder if a life offline might be worthwhile.
But when Eliza's secret is accidentally shared with the world, everything she's built—her story, her relationship with Wallace, and even her sanity—begins to fall apart.
Next up is the part where I would share what I was planning to read next, but I tried that last week and completely failed at picking up any of the books I listed, so I think this week I'll just not commit myself to anything. Ha! I generally don't make a weekly/monthly TBR – I more pick up whatever is sounding appealing when I'm ready to start a new book.
**What are you currently reading? Have you read any of the books on my lists? Let me know in the comments!**