I've done a few of these mini reviews in the past, and I really enjoy them for books I don't feel like writing a full review on, so today I bring you 5 mini reviews! This month, I've really been in the mood for some romance, so these mini reviews have some romance books as well as some thriller, and some young adult!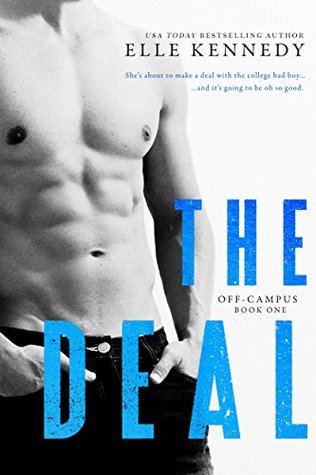 The Deal was a cute romance about the smart girl in class Hannah, and the hockey star Graham. Graham is desperate to pass his college ethics class, and begs Hannah to tutor him. In return, he offers to pretend to date Hannah, so she can attract the attention of the guy she has a crush on. Of course, being a romance, they end up falling for each other, so no surprises there, but the book was cute, quick, and light, which is exactly what I was looking for! I rated this one 4 stars.
Playing for Keeps by R.L. Mathewson
Jason and Haley are neighbors who end up becoming best friends. On top of regularly seeing each other at home, they also work together. When a weekend trip results with them sharing a bed, they both find they sleep better next to each other. When they start to develop feelings for each other, Haley thinks the relationship will be only temporary, since Jason is a renowned playboy. Jason is determined to prove her otherwise. Unfortunately, this one wasn't a winner for me. The plot was cute (I'm a sucker for a friends to lovers romance!) but the writing was awful. It's also a HUGE pet peeve of mine when conflicts exist in books solely because the characters won't talk to each other. The entire conflict in this book could have been solved in a 5 minute conversation. I rated this one 2 stars.
The Ice Twins by S.K. Tremayne
Parents Angus and Sarah have gone through every parent's worst nightmare – one of their twin daughters, Lydia, died in an accident. A year late, their surviving daughter, Kirstie, claims she's actually Lydia…did they make a horrible mistake when identifying their deceased daughter? This one was marketed as a thriller, but didn't feel very thrilling to me. The whole premise felt a little weird – couldn't they just compare finger prints to their daughter's birth certificates? So that part felt far fetched. I also found the plot slow moving, and the ending felt unsatisfactory to me. I rated this one 3 stars.
The Non-Disclosure Agreement by Kelsey McKnight
Holly recently moved to New York City from a small town, and is eager to make her way in the big city. She started a job as an assistant to a rich CEO, Jackson. When Jackson decides he also wants to run for political office, his campaign manager tells him he needs to look like more of a family man and less like a playboy, so he hired Holly to pretend to be his fiancé. No one can know the truth, including their parents. When they inevitably end up developing feelings for each other, Holly starts to wonder if pretending will be enough for her. This was another predictable romance (aren't they all though?) but I really am a fan of these type of plots (even though they are everywhere), so I loved the story and the premise. I really enjoyed the characters as well. This was a 4 star read for me. PS, can we just take a moment to acknowledge how embarrassing New Adult/Romance covers are? WHY must they all contain a shirtless man?! HA!
Eliza and Her Monsters by Francesca Zappia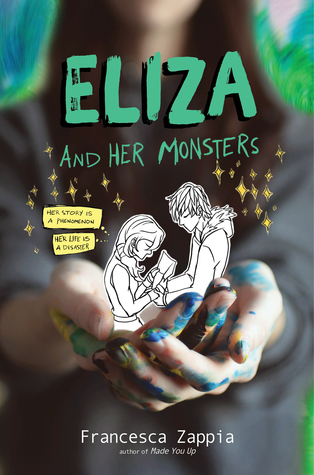 High school student Eliza is very quiet in real life. She's an outcast in school, but she doesn't mind, because online, she's LadyConstellation, the hugely popular creator of the webcomic, Monstrous Sea. Only her family and two closest online friends know the truth about who she is…to everyone else, her identity is a mystery. Eliza never expects Wallace,  Monstrous Sea's most popular fan fiction writer to transfer to her school. She definitely doesn't expect to start dating him. When her online identity and real life collide, and her true identity is made public, it throws her life in disarray and affects her relationships with her parents, as well as her boyfriend. So, let me just say, I LOVED Eliza and Her Monsters!!! It was soooo good, and I loved the fact that I could relate to Eliza's depression. I laughed through the book, but it also made me cry at one point. I really am loving that more books are talking about online friendships too, as they are absolutely real friendships despite what some might thing. If you liked Fangirl by Rainbow Rowell, you'll love this one. It was a 5 star read for me.
**So, there you go! Five mini reviews! Have you read any of these books? What did you think of them? Let me know down in the comments!**